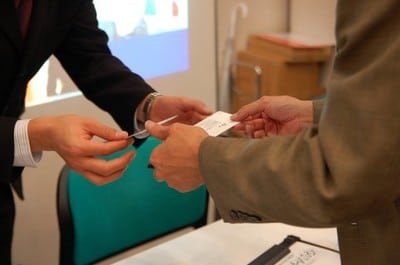 Who Should Get Your Business Cards? Everybody!
Business cards are one of the cheapest and easiest ways to promote your business. But when and how should you distribute them?
1. When you've just made a sale or closed a deal.
You always give your customer your business card for his file, right? Wrong! You should be giving him six to eight of them — one for his own use ("in case you have any questions or concerns") and several to pass on to his friends and business acquaintances who might be in the market for your product or service. Don't worry about appearing greedy — you're demonstrating your good business sense, and also assuring the customer that you have a stake in his continuing satisfaction.
2. In any business correspondence.
Always include one or two of your business cards, so that your customer, or potential customer, will have one handy. And don't forget enclosing them in the bills you pay — you never know who might open that envelope and have need of your services!
3. With the shipment of your product.
Your customer will know that you stand behind your product. (And knows whom to contact if he needs to buy more!)
4. When appropriate, on local community bulletin boards.
If you own a funeral parlor, you probably won't want to post a business card on the local grocery store's bulletin board. But if you run a pet grooming service or type resumes, you just might.
5. As a business calling card.
When calling on a client or potential client, hand out your business card when you announce yourself. It keeps your name and company easily accessible to the receptionist or secretary and avoids confusion or misunderstanding.
6. At business networking meetings.
You're there to meet new business contacts, right? Let them remember who you are. And don't forget to bring a good supply of cards when you attend a workshop, conference, or training session, either.
7. Make them available at your place of business.
You should always have a card holder and cards on your desk. Your receptionist or secretary should also have a good stock. And don't be stingy! Make sure you have a good enough supply out that your customer feels comfortable taking a few extra to give to his friends.
For more information, please visit our Frequently Asked Questions page for ordering translated business cards.
You can also use our express FREE Asian Business Card Translation Quote Request Form to select your options and receive a detailed quote for your exact order.
_________________________________________________
AsianBusinessCards.com
Japanese, Chinese & Korean Business Card Translation, Typesetting & Printing Experts
We specialize in typesetting, printing and Asian business card translation into all languages serving Asia. We have a specific focus on popular Asian languages such as Japanese, Chinese and Korean. Our specialists can create Japanese business cards for your trip to Japan. We also handle both Simplified & Traditional Chinese business cards for China or Taiwan. If you're heading to Korea, we can also provide Korean business cards to you as press-ready PDF files or printed cards shipped directly to your door. If you are visiting Vietnam, we can also create Vietnamese business cards for you. Lastly, we also are experts in translation and typesetting for Arabic business cards. We are happy to provide you with a free quote for your next project. Please contact us for more details.