Arabic Business Card Translation
Arabic Business Cards: Translation, Typesetting & Printing. Need bilingual English & Arabic business cards? This is our specialty. We specialize in Arabic language business card translation, typesetting and printing. Our professional native-language speaking Arabic translators will translate your business card to your exact order specifications. In addition, our graphics specialists will then typeset and format all text, paying special attention to the cultural needs of the right-to-left orientation found in Arabic. As a last step you will have the option of having us print your cards and ship them directly to your door, or we can email you a press-ready PDF file for printing at any print shop. In other words, ee cater each project to your exact requirements, and rush projects are also welcome! To get started, please visit our free Arabic business card translation quote request form.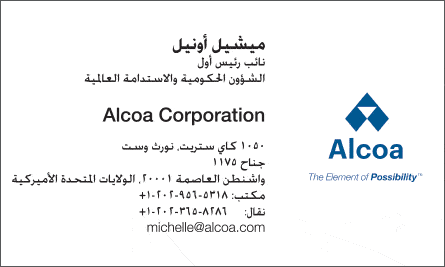 Dual-Sided (2-sided) Arabic/English Bilingual Business Cards.
We are experts in Arabic business card translation and printing. We can provide Arabic business cards for use here in the United States, or for business meetings in countries like Egypt, Sudan, Algeria, Morocco, Iraq, Saudi Arabia, Libya, United Arab Emirates, Qatar, and so on. Our staff of native-language speaking professional translators can assist any Arabic business card translation project you need.
Custom Arabic Business Card Order Options.
When translating Arabic business cards, you have many options. For example, some clients may prefer to create a single-sided card layout, where others may want two-sided business cards with English on the front and Arabic on the back. Some clients may want the entire business card's content to be translated into Arabic, and others may want only their name & title to be translated. The choice is yours! Each order is a completely custom order based on your precise requirements. We can even match your existing English business card layout, or if you're a new company and do not have a business card design, you can select from our online templates suitable for business card translation. To get started, simply complete our free Arabic business card translation quote form.
We are Experts in English/Arabic Business Card Translation & Printing.
Whether you've ordered bilingual Arabic business cards in the past, or have never placed an order, we're here to assist you. Our mission is to provide the highest quality of service, and to make ordering your Arabic business cards as simple as possible. For example, our free online quote form should get things started with costs and turnaround times for your exact project requirements. We have also created a How To Order section to guide you through the very basics in the ordering process. Our main FAQ will tackle some of the most frequently asked questions about ordering bilingual Arabic business cards. And lastly, if you still have questions about ordering bilingual Arabic business cards, you can always contact us.
English & Arabic Bilingual Business Card Translation
Being experts in the field of Arabic business card translation since 1999, we have created bilingual business cards for countless companies over the years. Below you will find examples of a sample bilingual English and Arabic business card project. If you click on any image, this will take you to our Arabic Business Card samples page with various Arabic business card translation project samples we have completed for just some our past clients.
Arabic Business Card Samples
Click any of the images above to view more examples of translated Arabic business cards we have completed for our clients on our Arabic Business Card Samples page. Each order is a custom order and custom created based on the specifications of each client. This is why you may see some examples with different items translated or left in English.