Bilingual Business Card Translation Services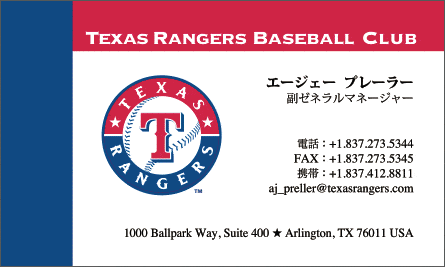 Bilingual Business Card Translation Services
We are the industry leader in bilingual business card translation and printing. We offer premium business services for Bilingual, Multilingual, Foreign Language Translation and (2) Two-Sided business cards or documents. We are located in the San Francisco Bay Area, but our services are available to all major metropolitan cities in the United States such as New York City, Los Angeles, Chicago, Atlanta and Dallas. Our Internet site allows us to extend business card translation services to any region in the United States, and even the rest of the world. To get started, simply visit our free business card translation quote request form.
International Bilingual Business Card Services
Even if you are not located in our immediate area, we can provide services to your company anywhere on the globe. If you are located anywhere in the United States, Puerto Rico, Japan, China, Korea, England, France, Canada, Russia, Germany, Australia, etc. we have the capabilities to work with you and get you the multilingual products you need for your bilingual business card project.
Our services include translation for Bilingual, Multilingual and Foreign Language Business Cards and Documents. We often receive requests for translated materials into various Asian languages. These include multilingual packaging, document translation and of course, translated business cards. We have the tools and translation staff on-hand to create and process virtually any type of document-related translation project.
For a free quote, please visit our free quote request form.
We regularly provide bilingual business cards to various locations throughout the United States and the world. Our client list includes just some of the following cities:
New York, NY
San Francisco, CA
Dallas, TX
San Jose, CA
Detroit, MI
Washington, DC
Oakland, CA
Tulsa, OK
Austin, TX
Baltimore, MD
San Antonio, TX
San Diego, CA
Charlotte, NC
Fort Worth, TX
Albuquerque, NM
Long Beach, CA
New Orleans, LA
Boston, MA
Honolulu, HI
Minneapolis, MN
Colorado Springs, CO
Louisville, KY
Nashville, TN
Kansas City, MO
Mesa, AZ
Jacksonville, FL
Stamford, CT
Phoenix, AZ
Philadelphia, PA
Indianapolis, IN
Denver, CO
Houston, TX
Fresno, CA
Virginia Beach, VA
Las Vegas, NV
Portland, OR
Atlanta, GA
Cleveland, OH
Omaha, NE
Miami, FL
Tucson, AZ
Oklahoma City, OK
Arlington, TX
Los Angeles, CA
El Paso, TX
Milwaukee, WI
Seattle, WA
Columbus, OH
Chicago, IL
Sacramento, CA
Memphis, TN
We also regularly provide bilingual business cards and translation services to every state in the union. These translation services cover the following states and locations:
New York
Alabama
Michigan
Colorado
Illinois
South Carolina
Pennsylvania
Oklahoma
Minnesota
North Carolina
Arizona
Idaho
Indiana
New Jersey
Mississippi
Washington
California
Oregon
Ohio
Connecticut
West Virginia
Rhode Island
Tennessee
Louisiana
Montana
New Hampshire
Arkansas
Hawaii
Iowa
North Dakota
Maine
Utah
Massachusetts
Nevada
Missouri
Delaware
Vermont
Alaska
Texas
Virginia
Wisconsin
Nebraska
Florida
Georgia
Kansas
Kentucky
Wyoming
South Dakota
We are experts in bilingual business card translation, typesetting and printing. We also offer a wide range of translation services that are not limited exclusively to multilingual business cards. For example, we have completed a wide variety of projects over the years, and each vary from client to client. For a list of some of our many satisfied clients, please visit our client feedback and testimonials page. These are just some of the multilingual projects we have completed for various clients all over the nation:
Translation & Typesetting of Japanese Business Cards for Major League Baseball for their New York City headquarters
Translation, Typesetting, and Printing of Chinese Business Cards for law firm in Santa Ana, California.
Foreign Language Business Card Printing of Bilingual Japanese Business Cards for an aerospace client in Los Angeles, California.
Translation and Typesetting for Chinese Bilingual Business Cards for the Governor of South Dakota, located in Pierre, South Dakota.
Translation and Typesetting of Korean Business Cards for a print-based client in Fairfax, Virginia.
2 sided Japanese Business Card Printing for Chevron officials located in San Francisco, California
Dual-sided Chinese Business Card Translation and Typesetting for a heating manufacturer located in Detroit, Michigan.
Japanese Bilingual Business cards for a bowling alley owner in Franklin, Indiana.
2 sided Chinese and Korean business card translation, typesetting and printing for a tire manufacturer located in Cleveland, Ohio.
Dual-sided Chinese rush business card printing for Federal Reserve Bank officials in St. Louis, Missouri.
Multilingual Business Card Translation in Chinese for hospital staff in Houston, Texas
Printing of Dual-Language Business Cards into Japanese for newspaper executives in Manhattan, New York
Printing of Bilingual Business Cards into Chinese for a cosmetics client in Boston, Massachusetts
Translation of Contract Materials into Japanese for a client in Florence, Massachusetts
Multilingual brochures and Advertising into Chinese, Japanese and Russian for a biomedical client in San Francisco, California
Translation and Multilingual Typesetting for Bilingual Business Cards into Japanese for a design client in Palo Alto, California.
Bilingual Translation and Typesetting of Japanese Business Cards for a print-based client in Sunbury, Ohio
Bilingual Translation and Typesetting services for Chinese Business Cards for a boat manufacturer in Knoxville, Tennessee.
We are experts in Asian business card translation. We have been in business since 1999, and we specialize in Asian business cards suitable for exchange in China, Korea, Japan, Vietnam, Thailand, and so on. Our mission is to provide you with the best translation quality on-time, every time. We never use translation software and only have professional native-language-speaking translators on staff. Many companies overlook the impact that a bilingual business card can have on your business. We don't. We take special pride in our work and are committed to ensuring that your business card translation project is given as much care and thought as it deserves. So whether you need Simplified Chinese business cards, Traditional Chinese business cards, Japanese business cards, Korean business cards, Vietnamese business cards, Arabic business cards, or more, we have you covered.
With translators fluent in many languages, or staff can assist you with bilingual business cards in over 40 different languages. Being experts in the field, we know the typesetting requirements that are needed for many complex Asian typesetting languages such as Chinese, Japanese, Korean, Vietnamese, Thai, and others. However, we can also assist you in non-Asian bilingual business cards for languages such as Russian, Czech, French (European or Canadian,) German, Greek, Hungarian, Spanish, Norwegian, Portuguese, Ukrainian, Turkish, Polish, Slovak, Croatian, and many more.