Korean Business Card Translation
Korean Business Cards: Translation, Typesetting & Printing. Need bilingual English & Korean business cards? Korean business cards and bilingual business card printing are our specialty. Our native-language speaking Korean translators and graphic artists can create fully translated Korean business cards, printed and shipped straight to your door. We offer Korean business card translation, typesetting and/or printing services, including single-sided Korean business cards, or bilingual Korean business cards with English on the front side, and Korean on the back. In addition, each order is fully customized to your exact order specs, including the use of your own company logo, layout, and design. Rush projects are also available! Visit our free Korean business card translation quote form to get started.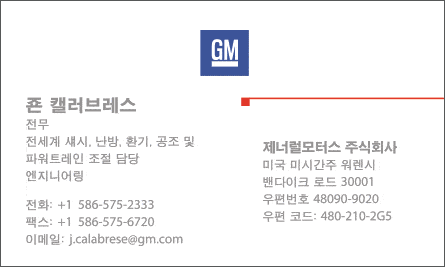 Dual-Sided (2-sided) Korean/English Bilingual Business Cards.
Korean business cards are our specialty. Our team of Korean native-language speaking professional translators and graphics professionals can create custom two-sided Korean business cards with English on one side and Korean on the other. Translated 2-sided Korean business cards can also be customized exactly to match your existing English business card design, complete with your original company logo, fonts, layout and branding.
Custom Korean Business Card Order Options.
You have many options for your Korean business card translation order. Our objective is to provide you with Korean business cards set up to your precise order specifications. This can be an order using your current business card design layout and company logo, or one in which you select from our numerous business card translation design templates. Some clients prefer to leave the company name or mailing address in English, and some prefer to translate either (or both) into Korean. The choice is yours. For example, every order comes complete with English and Korean final proof files for your review, so you'll always know just what your Korean business cards will look like when printed.
We are Experts in English/Korean Business Card Translation.
Again, each order is a completely custom order for your business. Your Korean business cards need to reflect your business and your style. We're able to work with you and create translated Korean business cards for virtually any type of order. A key consideration when creating Korean business cards is whether to make your cards one or two-sided. Most clients prefer to have English on the front, and Korean on the back, which then allows you to distribute your business cards with the Korean side up when presenting them to your Korean-speaking clients. It just adds a greater impact during the presentation. However, we can also create custom bilingual English & Korean single-sided business cards for you as well.
Need Assistance Getting Started with Korean Business Cards?
If you don't know where to begin, we're here to help. Our mission is to make ordering Korean business cards as trouble-free as possible. We have various tools on our site to assist you. Our FAQ section will answer most of the common questions you may have regarding Korean business card translation. Also, we also have a Business Card & Travel Etiquette Guide for Korea that can help even the most seasoned travellers. Our Korean Business Card Samples page has examples from some past clients. This area displays several layouts from completed Korean business card translation projects, and how each order reflects each client. Lastly, if you still have any questions, we encourage you to contact us.
English & Korean Bilingual Business Card Translation
Being experts in Korean business card translation services, we have completed countless projects for companies spread out over the entire world. Thus, below is just one English & Korean business card sample that we translated and printed in Korean. In addition, if you click on either image, this will take you to our Korean samples page with multiple Korean business card projects we have finalized for our customers.
Korean Business Card Samples
Click any of the images above to view more examples of translated Korean business cards we have completed for our clients on our Korean Business Card Samples page. Each order is a custom order and custom created based on the specifications of each client. This is why you may see some examples with different items translated or left in English.