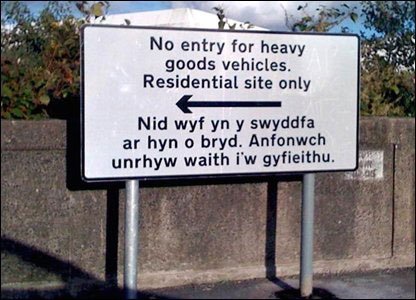 Road Sign in Wales: English version is correct, but Welsh translates to "I am not in the office at the moment. Send any work to be translated."
See anything odd about the sign above? Well, if you're not a native English speaker, you may not notice a thing. And, unfortunately for the transportation authority in Wales, they didn't notice anything wrong either. All official road signs in Wales must be bilingual in both English and Welsh. So the local transportation authority would simply email their in-house speaker for any Welsh translations they needed. In this case, they simply needed the Welsh translation for "No entry for heavy goods vehicles. Residential site only", so they sent off an email to their in-house Welsh speaker. When they received the "translation" reply back via email, they simply went into production. No proofer, and not a single Welsh-speaker was asked to review the text before the sign went into production.
This is why it's crucial to use a professional translation agency when translating documents into foreign languages. Many times, potential clients may mistakenly think that dual-sided bilingual business cards are small enough to where someone in the office "who knows a little Japanese or Chinese" can do the task. Ask yourself this: is it worth it? In the example above, cutting corners by not using a professional agency for translation and/or final proofing, not only cost the transportation authority in Wales quite a bit of embarrassment, it also cost them money. Now imagine if this is your first trip to China, Japan or Korea, and you think it will work to cut corners on translation costs for Japanese business cards, for example. Still think it's worth it? The cost of an error on translated business cards, will far exceed the cost of creating translated business cards themselves. Thus, only select a company that used professional, native language-speaking translators on-staff, who can properly translate, typeset and proof your Japanese, Korean, or Chinese business cards, or business documents.
For more information, please visit our Frequently Asked Questions page for ordering translated business cards.
You can also use our express FREE Asian Business Card Translation Quote Request Form to select your options and receive a detailed quote for your exact order.
_________________________________________________
AsianBusinessCards.com
Japanese, Chinese & Korean Business Card Translation, Typesetting & Printing Experts
We specialize in typesetting, printing and Asian business card translation into all languages serving Asia. We have a specific focus on popular Asian languages such as Japanese, Chinese and Korean. Our specialists can create Japanese business cards for your trip to Japan. We also handle both Simplified & Traditional Chinese business cards for China or Taiwan. If you're heading to Korea, we can also provide Korean business cards to you as press-ready PDF files or printed cards shipped directly to your door. If you are visiting Vietnam, we can also create Vietnamese business cards for you. Lastly, we also are experts in translation and typesetting for Arabic business cards. We are happy to provide you with a free quote for your next project. Please contact us for more details.