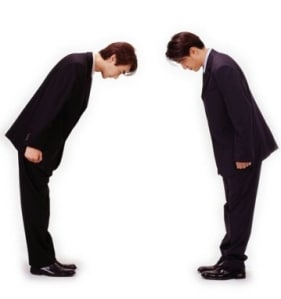 More than game theory: etiquette counts in China
Philip Hopkins
IN CHINA, business etiquette can make or break a deal, and choosing a trustworthy local partner is vital.
Melbourne business teams identified these key elements in an exercise designed to find out how to do business in China.
The inaugural "Masters of their Game" competition, organised by the Institute of Chartered Accountants, featured nine teams.
Participants had to devise a business solution for a fictional client wanting to do business in China. The Australia Post team won.
The institute's general manager for Victoria and Tasmania, Michael Nazzari, said the exercise revealed some risks involved in doing business in China.
"Significant cultural differences must be addressed," he said. "Punctuality is considered of utmost importance, as is ensuring the highest-ranked person in a meeting sits at the head of the table.
"It is considered an offence to write on someone else's business card, and the giving of gifts is essential at business meetings."
Mr Nazzari said in-market contacts were invaluable. "Choosing a trustworthy partner is vital in establishing contacts and networks, and achieving guanxi, or mutual trust in business," he said.
Mr Nazzari said rather than being one, monolithic market, China consisted of many geographically and economically separate submarkets.
"Your business needs to be tailored to a particular region, rather than trying to target the nation as a whole," he said. China's complicated labour laws also varied between provinces.
Mr Nazzari said language was important because the language of law was Mandarin.
It was important that definitions were not lost in translation because Mandarin overruled any English definition, he said.
Mr Nazzari said long delays to set up in China were not unusual, nor were unsophisticated distribution systems.
Both these factors needed to be included in any business expansion plan.
"Consideration must be given to your ability to supply the market," he said.
Source:
https://www.theage.com.au/business/more-than-game-theory-etiquette-counts-in-china-20061006-ge3a0i.html
For more information, please visit our Frequently Asked Questions page for ordering translated business cards.
You can also use our express FREE Asian Business Card Translation Quote Request Form to select your options and receive a detailed quote for your exact order.
_________________________________________________
AsianBusinessCards.com
Japanese, Chinese & Korean Business Card Translation, Typesetting & Printing Experts
We specialize in typesetting, printing and Asian business card translation into all languages serving Asia. We have a specific focus on popular Asian languages such as Japanese, Chinese and Korean. Our specialists can create Japanese business cards for your trip to Japan. We also handle both Simplified & Traditional Chinese business cards for China or Taiwan. If you're heading to Korea, we can also provide Korean business cards to you as press-ready PDF files or printed cards shipped directly to your door. If you are visiting Vietnam, we can also create Vietnamese business cards for you. Lastly, we also are experts in translation and typesetting for Arabic business cards. We are happy to provide you with a free quote for your next project. Please contact us for more details.