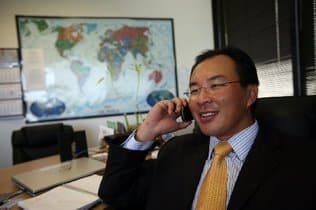 Cultural awareness is key to success in China
International trade executive Anly Liu offers ideas on business opportunities.
BY JOSEPH A. MANN JR.
Anly Liu possesses a skill set many international businessman would envy.
At 38, he is vice president of Oriental Logistics Miami, a supply-chain company that is a branch of Hong Kong-based Oriental Air Transport Service; president of the Florida-China Chamber of Commerce; and a director of the Taiwanese Business Association.
Born in Taiwan and educated in the United States, Liu speaks English, Taiwanese and Mandarin and has extensive experience in management, international trade, business development, finance and marketing, with stints at Kyodo Shipping & Trading Corp., GE Capital Assurance and other firms.
An entrepreneur who has set up six successful businesses in the past eight years, Liu specializes in finding and creating business opportunities.
Liu moved to Miami in 2002 when some friends asked him to troubleshoot at AGI Logistics. He joined Oriental Logistics in 2004.
In Miami, he runs a key office for Oriental Air, handling cargo and third-party logistics services for the U.S. Southeast, Latin America and the Caribbean.
Liu spoke to The Miami Herald about doing business with China and offered ideas on new business opportunities.
Q: What advice do you have for people who are planning to do business in China?
A: They should take some time to learn about Chinese culture and customs and, if possible, try to learn something about the language. This will increase the possibility of doing business successfully. As for cultural differences, Americans tend to be very aggressive in business, and the Chinese — as well as other Asians — often see this behavior as pushy and rude. It's considered impolite.
It is important to take time to build relationships and develop trust. Americans should learn how to show respect through their gestures. For example, giving out business cards is a very important first impression. You should hand the person you're meeting the card (Chinese language side face up) with both hands, and receive business cards respectfully with both hands, taking time to read the card carefully.
I travel though a lot of Asian countries, and there are different cultural variations. Learning about these cultures is important, and our chamber can provide assistance.
For more information, please visit our Frequently Asked Questions page for ordering translated business cards.
You can also use our express FREE Asian Business Card Translation Quote Request Form to select your options and receive a detailed quote for your exact order.
_________________________________________________
AsianBusinessCards.com
Japanese, Chinese & Korean Business Card Translation, Typesetting & Printing Experts
We specialize in typesetting, printing and Asian business card translation into all languages serving Asia. We have a specific focus on popular Asian languages such as Japanese, Chinese and Korean. Our specialists can create Japanese business cards for your trip to Japan. We also handle both Simplified & Traditional Chinese business cards for China or Taiwan. If you're heading to Korea, we can also provide Korean business cards to you as press-ready PDF files or printed cards shipped directly to your door. If you are visiting Vietnam, we can also create Vietnamese business cards for you. Lastly, we also are experts in translation and typesetting for Arabic business cards. We are happy to provide you with a free quote for your next project. Please contact us for more details.