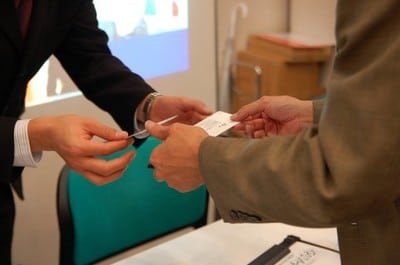 Japanese Business Card Exchange Guidelines
If you are visiting Japan on business, double-sided business cards in Japanese and English are a must. Why? They show potential partners that you are serious, and that you understand and respect their culture. This small effort on your part establishes trust, and maximizes your opportunity for excellent results.
Business Card Exchanges Guidelines:
Cards are exchanged at the beginning of a meeting; make sure you have enough available for everyone.
It is best to stand up when exchanging cards with those of higher rank.
Facing your counterpart, bow slightly and hand your card (with the Japanese side pointing up!) either with your right hand or both hands. The same rule applies when receiving a card from someone else.
Make time to review your counterpart's card carefully. You might want to speak his/her name and position to be sure of correct pronunciation. If the meaning of his/her job position is in any way unclear, it would not hurt to ask for an explanation. Basically, you want to show interest in and respect to the other party.
DO NOT shove the card into your back trouser pocket!!
If you are meeting in passing, then you may just carefully place the card in a shirt pocket or in a wallet or notebook.
If you are seated at a meeting, place the card gently on the table in front of you. Look at it often during the meeting in order to refer correctly to your counterpart's name and position. If you are meeting more than one person and have received multiple cards, arrange them neatly in front of you.
The Japanese hand out their business card at the drop of a hat. Don't be left out! Give your card to anyone that you want to hear from again. You'll likely go through a lot more cards during your trip to Japan than you would back home.
For more information, please visit our Frequently Asked Questions page for ordering translated business cards.
You can also use our express FREE Asian Business Card Translation Quote Request Form to select your options and receive a detailed quote for your exact order.
_________________________________________________
AsianBusinessCards.com
Japanese, Chinese & Korean Business Card Translation, Typesetting & Printing Experts
We specialize in typesetting, printing and Asian business card translation into all languages serving Asia. We have a specific focus on popular Asian languages such as Japanese, Chinese and Korean. Our specialists can create Japanese business cards for your trip to Japan. We also handle both Simplified & Traditional Chinese business cards for China or Taiwan. If you're heading to Korea, we can also provide Korean business cards to you as press-ready PDF files or printed cards shipped directly to your door. If you are visiting Vietnam, we can also create Vietnamese business cards for you. Lastly, we also are experts in translation and typesetting for Arabic business cards. We are happy to provide you with a free quote for your next project. Please contact us for more details.