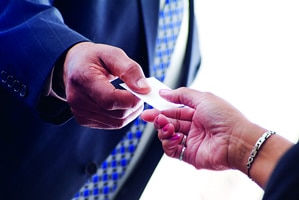 Are Business Cards Effective: Yes or No?
By Dawn Klingensmith
Going paperless is good public relations. Anyone with a reasonably sophisticated cell phone has the means to store a person's full contact information on the spot.
Does that mean business cards are defunct?
On the contrary, they seem to be more valuable than ever for drumming up business, says Melissa Crowe, vice president of marketing services for VistaPrint, a Lexington, Mass.-based business card sales and design company.
"A lot of laid-off workers end up doing consulting, and the only tangible thing a home-based business owner might give to someone is a business card," she says.
When used to their full advantage, business cards are an effective advertising and networking tool for givers and receivers alike, Crowe adds.
An entrepreneur whose business cards have perforated edges and smeary ink is not clear on the concept.
A job seeker who invests in some sharp-looking cards stating her area of expertise has a literal means of getting her name out and leaves a favorable, professional impression.
One emerging trend in business card design is that professionals other than real estate agents are including their photos on the card in an effort to stand out from the crowd. Savvy networkers have several points of contact beyond a telephone number and an e-mail address, including Web sites, blogs and social media profiles. Capturing all that data on a phone at networking events or during quick, serendipitous encounters with prospective clients would be disruptive and time-consuming, Crowe says. "People are leveraging all the space on the card, including the back," she says. "There's not as much white space."
However, leaving some white space for handwritten notes helps networkers parlay an exchange of business cards into career-advancing opportunities.
"Collecting business cards is not networking. Networking begins when someone hands you their business card and you turn it over and ask them, How can I help you achieve your objective in coming here today? and then take note of it on the back of their card," says recruiter David Perry, head of the Ottawa-based research firm Perry-Martel International and co-author of "Guerrilla Marketing for Job Hunters 2.0" (Wiley, 2009). "You can follow up the next day with either a referral or a quick call to tell them you don't know anyone but you'll keep them in mind."
Less conspicuously, you can also take note of how the card giver might be able to assist you based on what you glean from the conversation.
You can also make a note of topics you discussed to help jog your memory and cement the relationship, says Dave Payne, supervisor, media relations, MS&L Worldwide, Atlanta.
"Once I get back to the office, I make sure I e-mail each person whose business card I received to ensure the conversation continues," he says. "I have a folio that I put business cards in and thumb through it each month to see who I haven't contacted in a while."
If you collect lots of cards, use a business card scanner to capture the information into a database. If you're free to dream up your own business card design and opt for a nontraditional size or shape, make certain your cards will still fit in a wallet, standard business card holder and Rolodex.
Think of business cards as your cheapest form of advertising, and design and distribute them accordingly. And think of others' business cards as potential admission tickets to new career opportunities. You shouldn't reject any as useless, but you shouldn't feel obligated to keep all of them, either.
"You need to qualify each card as to how it fits into your marketing plan and networking goals," says Jim Malski, president, ActionCOACH Next Level Firm, Westport, Conn.
"Some should just get thrown away."
For more information, please visit our Frequently Asked Questions page for ordering translated business cards.
You can also use our express FREE Asian Business Card Translation Quote Request Form to select your options and receive a detailed quote for your exact order.
_________________________________________________
AsianBusinessCards.com
Japanese, Chinese & Korean Business Card Translation, Typesetting & Printing Experts
We specialize in typesetting, printing and Asian business card translation into all languages serving Asia. We have a specific focus on popular Asian languages such as Japanese, Chinese and Korean. Our specialists can create Japanese business cards for your trip to Japan. We also handle both Simplified & Traditional Chinese business cards for China or Taiwan. If you're heading to Korea, we can also provide Korean business cards to you as press-ready PDF files or printed cards shipped directly to your door. If you are visiting Vietnam, we can also create Vietnamese business cards for you. Lastly, we also are experts in translation and typesetting for Arabic business cards. We are happy to provide you with a free quote for your next project. Please contact us for more details.